On-Site & Virtual Coaching for Every Educator
Support teachers implementing synchronous and asynchronous learning
Build internal capacity and fuel equity, growth, and engagement across your entire campus or district.
Since 2011, engage2learn (e2L) has honed a highly effective and efficient in-person and virtual coaching system that builds internal capacity and fuels equity, growth, and engagement in public schools. This coaching system, paired with our comprehensive coaching web app, eSuite, has consistently yielded amazing results for our partner districts and has been proven effective in turning around schools and/or successfully launching new initiatives.
engage2learn provides on-site and virtual coaching for:
Virtual & Distance
Learning
Teacher & Administrator Growth
 District Coaching Support
Coaching Overview & Timeline
From teachers to district coaches, e2L works with educators at all levels to provide on-going growth and support through coaching. Over the course of the school year, e2L's elite team of coaches conduct 9 on-site or virtual  coaching conversations that are relevant and actionable to each educator. Below is a summary of the strategic coaching timelines used by the e2L coaching team to ensure coaching is systemic and focused while still being customized to meet the needs of each educator.
eGrowe Coaching Model
e2L's evidence-based coaching conversations cycle
Evidence-based coaching that produces results-driven growth!
The eGrowe Coaching Model is a time-tested, research-based coaching conversation model that provides a reusable, scalable framework for professional and personal growth for educators. Building on the foundation of the widely used GROW model for coaching, the eGrowe Coaching Model has been repeatedly used to produce amazing growth for educators and their students in districts across the country. The true impact and differentiator of the eGrowe Coaching Model comes from its emphasis on documentation and evidence of growth, because if it is not documented, it did not happen!
Coached Educators Show Growth!*
*Based on data from the eSuite coaching app.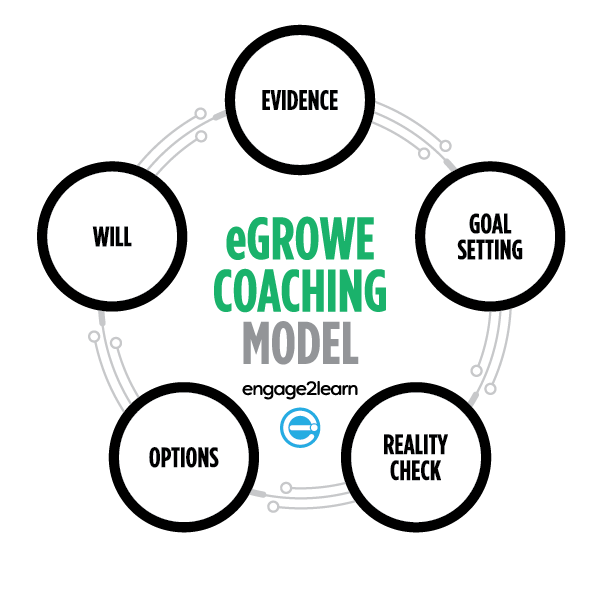 How does the eGrowe Coaching Model Work?
Evidence
Every coaching conversation starts and ends with evidence because if it is not documented, it did not happen. The coachee brings to their coaching conversation the evidence of growth and implementation completed since the last coaching session. This evidence shows that the coachee is growing and completing their next steps.
Goal Setting
During this part of the coaching conversation, the coachee chooses his or her standards of growth from a sequenced timeline of professional learning standards. Once selected, the coachee chooses the level of mastery they wish to achieve for their selected standard.
Reality Check
Once the goal is established, the coachee, with guidance from his or her coach, uses the growth standards' rubric of growth indicators to self-assess their current level of mastery.
Options
Now that both the coach and coachee know where the coachee wants to go and where he or she currently stands, the coach will brainstorm a list of options which the coachee can complete and grow. These options serve as the guides for coachees as they grow toward their goals.
Will
From the list of options for growth, the coachee commits to options which they "will" work before the next coaching conversation.
What makes eGrowe Coaching so effective?
Clear Standards
Having clear, state-aligned standards for growth means both the coach and coachee know exactly where to focus their attention and efforts. Knowing where to go is key to getting there.
Focus on Evidence
A coachee's evidence of growth functions as their "proof" they are, in fact, growing. Without evidence, growth is subjective at best. 
Scalable, Job-Embedded Support
Continued support through multiple coaching touches is key to the success of coaching efforts, and the eGrowe Coaching Model is designed to allow coaching conversations to build on each other, creating a "snowball" effect for personal and professional growth.
The Engage Coaching System
5 Essentials for Growing Educators at Scale
What are the 5 essentials to scaling coaching effectively and efficiently either in person or virtually to get the proven results for our partners? We call it the Engage Coaching System outlined below, and this system can integrate with any performance-based coaching philosophy or protocol that a district has already started:
1. Codified Standards
We have found that coaching is only effective at scale and overtime when it is proactively focused on a predetermined set of standards for growth containing codified behaviors that can be applied to practice. Because of this, e2L coaching always centers around rigorous, research-based professional learning rubrics and observable growth indicators that are aligned to state and/or national standards.
2. Evidence-Based Conversations
Based on eight years of experience conducting tens of thousands of coaching touches, e2L has perfected an evidence-based coaching conversation that serves as the basis of an effective and efficient coaching cycle. Leveraging the power of the eGROWE Coaching Model, our coaches are able to conduct coaching conversations that are focused and actionable that are also scalable, efficient, and logistically simple. This method of coaching provides districts a way to coach everyone to fidelity in the actual amount of time coaches have to coach.
3. Personalized Pathways
Coaching should not be one-size-fits-all, but rather both standardized and customized to the needs of your people. e2L personalizes coaching through the use of customizable coaching timelines. These timelines serve a scope and sequence of growth for coachees but are inherently designed to allow coachees to personalize their own goals and growth pathways. This process ensures coachees have ownership of their learning and growth.
4. Coaching Culture
Creating a culture of coaching across an organization involves layered coaching for all staff, including executives, teachers, and even coaches themselves. The structures that facilitate a culture of coaching include responsible rollout planning, setting up a layered coaching system, creating a coaching schedule, designing and communicating expectations, and developing capacity for sustainability.
5. Growth Data Systems
As we say at e2L, if it's not documented it didn't happen. Utilizing e2L's comprehensive coaching platform, eSuite, districts are able to track and analyze coaching efforts and its impact across their district and create recognition systems that reward and accelerate growth. This elegant tracking system allows districts to efficiently manage their coaching processes at scale.
Ready to Partner with e2L?
While we can't work with everyone, we would love an opportunity to explore whether a partnership with e2L can help you accelerate growth and innovation in your district.
Start Partnership